Mission Update
As we enter the summer break from campus, our 2015 campus ministry year on Griffith comes to a close. And although campus life has stopped, the summer still has many exciting opportunities for God to shine brightly across Brisbane!
Schoolies Beach ProjectAs many of you know, November here in Queensland means that over 20,000 High School graduates (17-18 yr olds) flock to the Gold Coast to celebrate their graduation by attending Schoolies. Often involving partying, drinking, drugs and promiscuity, every year we as Student Life hold a Summer Project for 2 weeks to connect, serve, and converse with these students, looking for opportunities to be able to share how true satisfaction is found in Christ.Unfortunately Becc & I can not be there this year as I will be leading a different Summer Project called 'Beyond Brisbane' later on this summer which I will update you on soon. However, the rest of our team and students are there serving.This year may be the biggest year for us at Schoolies as we have sent a team of around 50 students from the different Universities in Brisbane. Already by the end of the first week, we have heard that many Schoolie Students have connected with our team, heard the gospel, and 12 Schoolies have responded with accepting Jesus as their Lord and Saviour! Praise God!  Can you continue to pray for the last week of this project? And can you pray with us, that we would continue the relationship with many of these students as they enter University next year.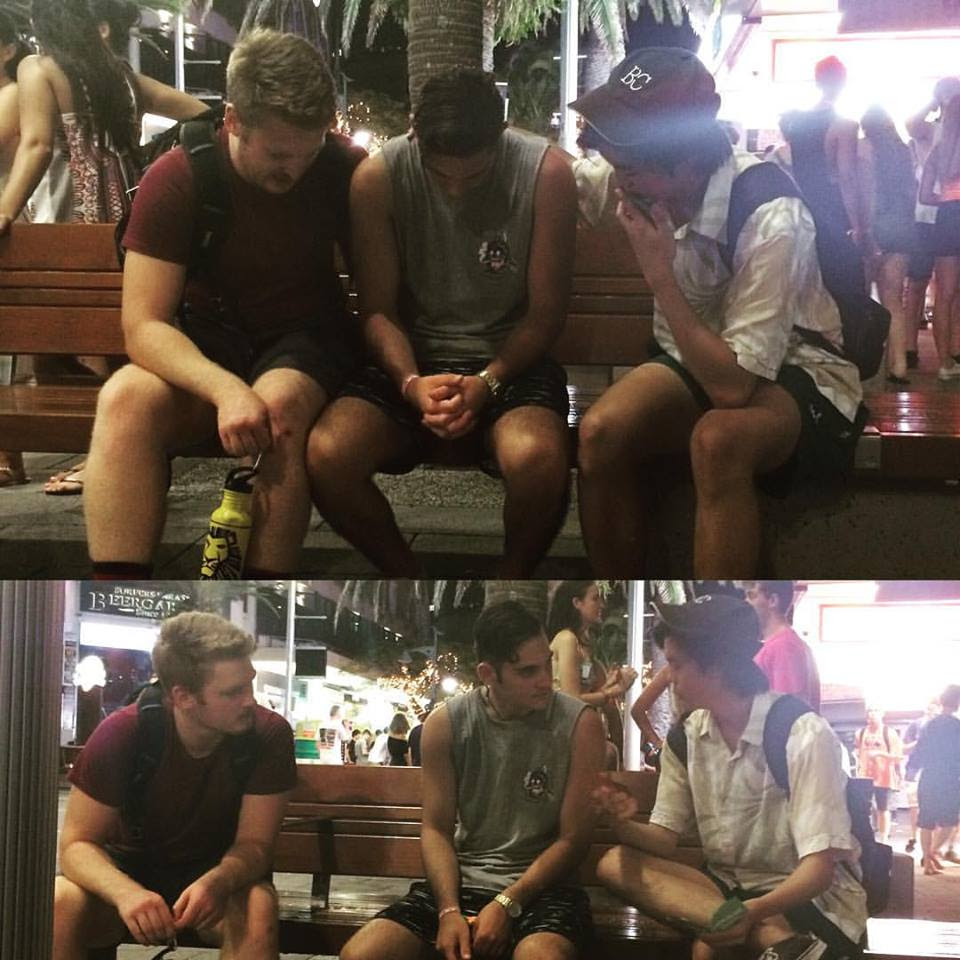 Pray for KietWill you please pray for our friend Kiet from Vietnam? You may remember hearing stories in previous newsletters about Kiet from Vietnam and how God has worked in his life the past 2 years he has been studying in Australia. When we first met him on campus, he was a devout Buddhist that knew very little about Christianity. But through our friendship and ministry, he has heard and understands the gospel and learned about Jesus and his life through our weekly discoveries studies through the Gospels.
     Saddly Kiet has recently just left to return to Vietnam to work for his government. Before Kiet left, I asked if we could meet one last time to connect and say goodbye.When we did meet, I asked him to just reflect on how his 2 years in Australia went, and where he was in his journey in looking into Jesus and the gospel. He was honest with me, and said how much Student Life had opened his eyes to Christianity, and how looking through the life of Jesus in the Bible, he could see there was something special, and different to him. But at this point, he said he still needed more time to investigate before he could make a commitment to believe in Christ. He told me since meeting, he has appointed about an hour a week to read the bible, and other historical books of Christianity. I was so encouraged to hear how the Holy Spirit really was working in his heart! And even more encouraged when he took out of his bag the original gospel track in the Vietnmanese language that I had given him about 2 years ago, and said that when he was ready, he would know how to take the next step with God.
It was such a bittersweet last encounter and one we know well working with the International ministry! Although I will most likely never see Kiet again on this Earth, I know that seeds have been planted in his heart, and that we serve a God that waters and grows those seeds on his time! I hope to continue to stay in touch and journey with him. Will you please continue to pray for Kiet and the Holy Spirit to continue to grip and move on his heart!
Our Griffith Missionary Team this past year
Summer PlanningWith the summer break  also comes a well needed time to plan and depend on the Lord for the start of the next Uni year in February. Throughout the summer, our Missionary team will be meeting with one another and students to continue to plan and discuss what next year will look like. Sadly, this year ends our partnership with US Cru sending short term missionaries to Brisbane (which Andrew was on when he first came). However, we will now start sending a US team to Western Australia to the city, Perth to help start the ministries on the 3 major campuses there. Please continue to pray for direction and wisdom for us next year!As we mentioned earlier in this newsletter, this upcoming February will be our International Student project called 'Beyond Brisbane'. The heart of the project is to reach international students on the campuses in Brisbane just before the semester begins again. We are still in the process of encouraging and inviting both student international and Aussie students  to join us as we seek to reach international students studying across Brisbane. Please pray as we are in the planning and recruiting stage.
It's hard to believe that we have been blessed to have called Maddi our daughter for one year now. We had the opportunity to celebrate her first birthday party with with friends and family. Although we are sure Maddi had no idea what was going on, amidst the craziness of hosting the birthday party in our house, it was encouraging to reflect on how many people had made an impression on Becc, Maddi and I and blessed us in some way this past year.And this includes you! Although you may not have been able to be with us to celebrate the gift of life for Maddi, we thank you for how your investment and partnership in our family, has blessed Maddi as well! And we continue to pray that she grows up to love and cherish Jesus more and more!Maddi's fun facts:
* Able to walk and run everywhere
* Especially loves to eat pickles, watermelon, frozen yogurt and fries
* Blows goodbye kisses
* Has an obsession with shoes
Please pray with us:* Pray for our Schoolies Beach Project that God uses our team there to connect and share the gospel* Pray for wisdom and direction as we plan over the summer for our next Uni year.* Pray for our student leaders that they would continue growing in their walk with the Lord over the summer* Praise God that Becc's health and test results did not show anything to severe. Please continue to pray for Becc as she was diagnosed with IBS and will require more appointments and dietry changes

* Please also be praying that we continue to fall more in love with Jesus as we pour into the lives of others
 Thank you so much for your continued prayers and thoughts! Your partnership with us here in Brisbane, has sown seeds all around the world with eternal significance!
Seeking Him,
Andrew, Becc & Maddi Baron